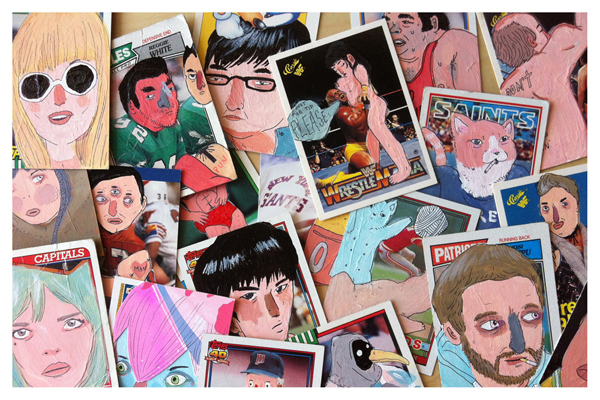 ABOUT IT'LL BE WORTH SOMETHING SOMEDAY
It'll Be Worth Something Someday, is the latest body of work by Dallas based artist Taro-Kun. This exhibition is a tongue-in-cheek look at the value placed on objects. Using trading cards as a working surface, the artist has taken an object that once had value as a collectible, and essentially defaces it, in turn giving it value in the context of contemporary art. The Public Trust's Small Room will be transformed into a card shop featuring over 200 painted trading cards, as well as t-shirts, prints, 'zines, pins and a collectible pennant. Works from this exhibition will be cash and carry. Individual cards will be priced at $50 or 2 for $80 and come ready to display in a top loading protective case.
ABOUT TARO-KUN
B. 1986, Reston, Virginia. The work of Taro-Kun is rooted in day to day observations which are shaped by his Japanese/American heritage. These manifest themselves as works on paper, which are densely packed with detailed vignettes of his daily interactions as well as offer a look into the lives of people as seen through the artist's multicultural lens. The voyeuristic quality in this work is gripping, making it nearly impossible to turn away from the train wreck that sometimes is the human condition.
In 2011 his work was featured on the cover of the April issue of Arts + Culture magazine and was also included in the Gun and Knife Show at CentralTrak, the UTD artist residency. Most recently Taro was a contributor to the O.T. which was a cooperative/collaborative experiment in photography and video production at CentralTrak, where artists interpreted stories from the Old Testament through film. Taro-Kun is a founding member of the Dallas based artist collective Lunch Buddies.
Another Newish Silk screen poster, that i neglected to post for a while.